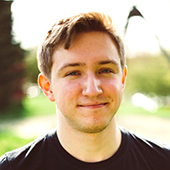 Szymon Woźniak
Prosecution and Data Support Specialist
Szymon joined INVO in November 2021 as a prosecution and data support specialist. His role's primary functions includes the management of administrative and data entry issues as they relate to Invention Managers and Associates, participation in license agreement activity and the patent prosecution process, and reference management for Information Disclosure Statements and work order forms from law firms.
He has previously participated in several academic research collaborations, including a cloud-based computing project sponsored by the University of Chicago for Wisepill, as well as a number of other types of data-related tasks executed for Bowling Green State University's Police Crime Department.
As a Chicago Posse scholar, Szymon studied and received his BA in computer science from Connecticut College. His time there allowed him to complete a four-year-long academic journey of Japanese linguistics that ultimately culminated in a semester-long home-stay with a family in Kyoto, Japan.  In his free time, Szymon loves cooking traditional Polish food, playing video games, and practicing classical piano music almost as much as he loves to go on hikes and nature walks.