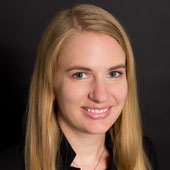 Sarah joined INVO in 2014. She manages intellectual property protection and commercialization for a variety of chemistry and materials science technologies, including areas such as energy and sustainability, supramolecular chemistry, and biomaterials. Towards commercialization, she leads discussions with licensees, potential partners, and other institutions in the US and abroad. Sarah is also the office contact for student inventions and entrepreneurship classes, such as NUvention.
Prior to joining INVO, Sarah was a graduate student in the chemistry department at Northwestern University. Her research focused on the synthesis and biological testing of enzyme-activated MRI contrast agents for visualizing gene expression. She also completed coursework in biophysics as part of Northwestern's Molecular Biophysics Training Program.
Sarah received a BS in Biochemistry from Calvin College and a PhD in Chemistry from Northwestern University, and is a registered patent agent.