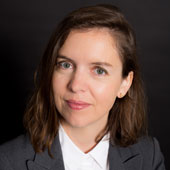 Anne-Isabelle joined the INVO team in March 2018. She primarily manages technology portfolios in chemistry, materials science, and engineering.
Prior to INVO, Anne-Isabelle was a Research Assistant Professor in the Department of Chemistry at Northwestern University. In this role, she managed and supported several multi-institutional research programs (MURI, Congressionally Directed Peer-Reviewed Medical Research Program, Air Force Center of Excellence for Advanced Bioprogrammable Nanomaterials) in the Van Duyne lab. She also lead the development of grant proposals, capitalizing on her extensive research experience in plasmonics nanomaterials and related sensors for chemical and biological agents.
Anne-Isabelle completed her PhD in Physical Chemistry from University Pierre & Marie Curie (Paris, France), her MS in Condensed Matter from University Paris Sud, from where she also earned her BS in Physical Chemistry. Additionally, she completed the Business for Scientists and Engineers Executive Education program from the Kellogg School of Management.