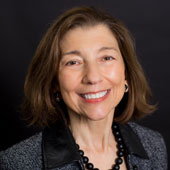 Alicia Löffler, PhD
Associate Provost for Innovation & New Ventures
Associate Vice President for Research
Executive Director, INVO, Center for Translational Innovation (CTI)
Associate Director of NUCATS
Phone: (847) 491-4647
a-loffler@northwestern.edu
Dr. Alicia Löffler is the founding Executive Director of the Innovation and New Ventures Office (INVO), Associate Provost for Innovation and New Ventures, Associate Vice President for Research. Dr. Loffler is responsible for all short and long term strategies and operations for INVO, including all educational commercialization and new ventures. 
 Dr. Löffler has served as advisor and director on multiple profit and non-profit boards for biotech/medical and investment firms.
Dr. Löffler received a BS from the University of Minnesota, a PhD from the University of Massachusetts at Amherst, and had her post-doctoral training at Caltech. Dr. Löffler was named one of the Tech 100 stars by Crain's Chicago Business, and received the "Women in Black" I-Street Award and the 2011 Innovator Award presented by the Chicago Chapter of the Association for Women in Science (AWIS).