Ed Colgate and Michael Peshkin, Tanvas
Ed Colgate and Michael Peshkin, Tanvas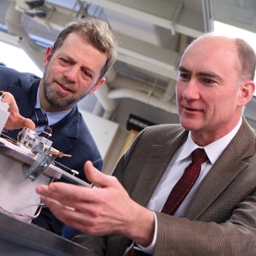 Today's touchscreens – an integral part of daily life – fail to involve the human sense of touch. But Tanvas, a technology company founded at Northwestern, is revolutionizing the experience, with plans to make tactile effects in touchscreens as ubiquitous as color in television.   
"Our mission is to bring 'touch' fully into the touchscreen experience," said Ed Colgate, Tanvas co-founder and professor of mechanical engineering at the McCormick School of Engineering.
Tanvas' surface haptic technology enables users to feel what they see on touchscreens, through patented inventions that produce tactile sensations on flat surfaces.
Tanvas technology can be licensed and developed for a broad range of applications, from retail to gaming. It also addresses broad societal issues like helping the visually impaired "see" through the screen and ensuring drivers never have to take their eyes off the road as they engage with touchscreens on their dashboards.
"Tanvas fills a need that many people don't yet recognize," said Michael Peshkin, Tanvas' other co-founder and also a professor of mechanical engineering at McCormick. "We don't even realize how much we're compensating for the lack of tactile response in touchscreens." 
Present day haptics in smartphones and other devices is primitive, relying on vibrations of the device. In contrast, Tanvas uses electrostatic fields to create computer-controlled variable friction on the glass, right under users' fingertips, that can feel like anything from tree bark to velvet. 
"Imagine how stark life would be if everything we touched felt exactly the same – smooth, hard and featureless," Colgate said. "Yet that is precisely the experience we've been forced to accept in the digital world. No more!"
Tanvas, originally known as Tangible Haptics, grew out of a Northwestern research program and the resulting patents. The Chicago-based company received a Chicago Innovation Award in 2015 and was named among the best products at the 2017 Consumer Electronics Show by Wired magazine.