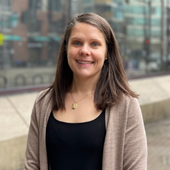 Kathryn Cherny, PhD
Operations Manager
Kathryn joined INVO at the end of 2022 as the operations manager for the new team overseeing Northwestern's Querrey InQbation Lab. 
Prior to joining Northwestern, Kathryn was a postdoctoral researcher in Host-Microbial Interaction, Inflammation, and Immunity Program at Ann and Robert H. Lurie Children's Hospital in Chicago. While a postdoc Kathryn remained involved in entrepreneurship becoming an I-Corps regional instructor, mentoring an academic team through the NSF I-Corps National Teams Cohort, and acting as Chief Operating Officer for a Northwestern faculty-led startup focused on microbiome-based personal care products.  
Kathryn received a BA in Biological Sciences and a PhD in Molecular Microbiology from Binghamton University, State University of New York.