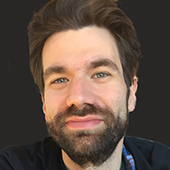 Jonathan serves as the Business Analyst Associate for INVO, where he works on data surrounding the IP and operations support.
Prior to joining Northwestern in 2022, he enjoyed a 15-year career in the non-profit theatre world where he worked as a stage manager for Steppenwolf Theatre Company and Goodman among many others. In his previous career, Jonathan worked with the Stage Managers' Association and other groups to advocate for stage managers on a national scale and was an active member of the Actor's Equity Association. During this time, he also served as faculty at the theatre school at Columbia College Chicago, teaching stage managers during a full-time, single-year appointment.
Jonathan received his MS in Data Science from DePaul University and BS in Theatre and Drama from the University of Wisconsin-Madison.